Scientific evidence has confirmed that methylglyoxal as one of the key components naturally occurring in New Zealand manuka honey, making it a unique product.
Our Manuka Honey 500+ is tested and certified to contain a minimum level of methylglyoxal of 500mg/kg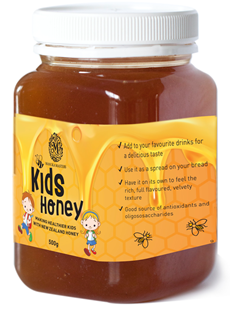 Kids honey is not made from the pollen or flowers of the manuka tree, but instead is made by the bees who eat the sap on the bark of the tree. This produces an amazing honey which has great nutritional benefits.
Limited Stock. Purchase Now >>
SHIPPING AVAILABLE AT BUYERS COST IN CASH
CLICK HERE FOR MORE TRADE OFFERS
PLEASE MAKE ALL ENQUIRIES TO OUR BBX TRADE DESK

☎
+64 9 262 0212 (AKL)
+64 3 595 5980 (CHCH)
Share it: